KNL Garlic - Organic Certified Farm
People worldwide are waking up to the dangers of chemically-treated crops. We are proud to be part of the solution by providing healthy, truly organic food from the good earth. It is so important that people KNOW where their food comes from; that it is chemical free and non-GMO. KnL Garlic is honored to play a part in providing healthy food!
Oven Roasted Garlic Artisan Bread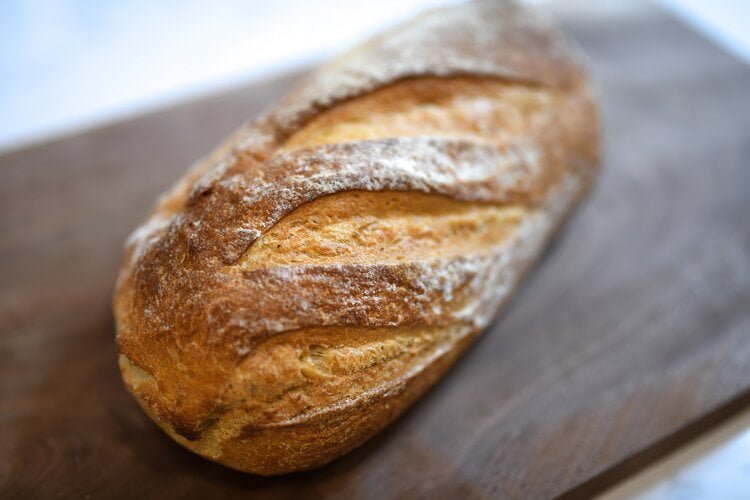 Ingredients
2 Cups Warm Water

2 1/2 tsp Active Yeast

2 1/2 tsp Kosher Salt

3 1/2 Cups All Purpose Flour

1 Small Head Roasted Garlic
Instructions:
Roast a head of garlic by cutting off the top of the garlic to expose the cloves. Drizzle with 1-2 tsp of olive oil. Cover and roast at 400°F for 30-35 minutes or until tender.

Combine warm water (approx. 110 degrees), yeast, salt & garlic in a large bowl. Stir until most of the yeast dissolves.

Stir flour into water mixture until combined. This will be a very wet dough. Cover with a clean towel and set on counter to rise for approximately 2 hours.

After the initial rise, the dough should have doubled in size. Sprinkle some flour on top of the dough and flour your hands.

Portion the dough into 2 equal pieces. Adding flour as needed, shape the dough into a round loaf. The other portion of dough may remain in the fridge until ready to use or you can bake both!

Place the shaped loaf onto a floured pizza peel or wooden cutting board. Let rise for 40 minutes.

Preheat the oven to 450°. Preheat a baking stone by placing it on the top rack placed in the middle of the oven. Place a broiler pan/metal pie pan on the second rack directly under the baking stone. Dust the stone with cornmeal to prevent sticking.

After the 40 minute rise is complete, transfer the loaf to the preheated baking stone. Pour 1 cup of hot water into the broiler pan/pie pan. This water will create steam that will result in a very crusty loaf.

Bake for 30 minutes, the outer crust will be dark in color but moist and chewy on the inside. To check that your bread is done, tap the bottom of the loaf, it should sound hollow.

Allow the bread to rest prior to cutting. ENJOY WITH SOME AMAZING GARLIC BUTTER. !!!!
Recipe Notes: Recipe courtesy of Old World Garden Farms
Ingredients
1 C. Butter softened

1 TBL Garlic minced (or more stronger garlic taste)

1/4 C. Parmesan cheese grated

1 TBL Garlic salt

1 tsp Italian Seasoning

1/2 tsp ground black pepper

1/4 tsp ground paprika
Instructions:
In a small bowl, combine softened butter, minced garlic and parmesan cheese.  Add garlic salt, Italian seasoning, pepper and paprika.  Mix until smooth.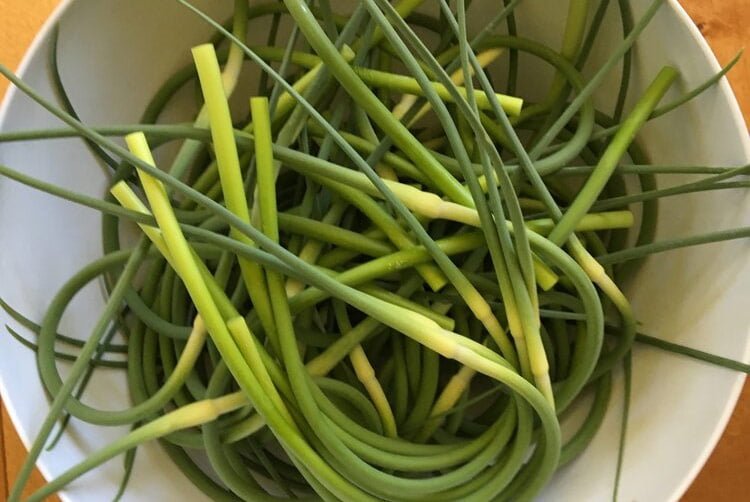 Ingredients
1/4 cup pine nuts

3/4 cup coarsely chopped garlic scapes

Juice and zest of 1/2 lemon

1/2 teaspoon salt

A few generous grinds of black pepper

1/2 cup extra virgin olive oil

1/4 cup grated Parmigiano Reggiano cheese
Instructions:
In a small, dry pan set over very low heat, lightly toast the pine nuts, stirring or tossing occasionally until just beginning to brown, about 2-3 minutes. Remove from the heat and let cool for a few minutes.

Combine the scapes, pine nuts, lemon juice and zest, salt, and pepper in the bowl of a food processor fitted with the blade attachment. Pulse about 20 times, until fairly well combined. Pour in the olive oil slowly through the feed tube while the motor is running. When the oil is incorporated, transfer the pesto to a bowl and stir in the grated cheese. If you plan to freeze the pesto, wait to add the cheese until after you've defrosted it.